A delightful interaction with Lalit three years ago gave birth to a column titled T-Talks in the new eZine Tea-time with Testers. And it has been a wonderful journey, to come up with something interesting every month. To celebrate the occasion of "Tea-time with Testers" crossing the 1000 day mark, I published this anthology containing some of my articles as "Musings over Tea-time".
It has been a journey of thinking, observing, reflecting, being inspired from the numerous daily interactions and correlating these to testing. The joy is in the simplicity of these. I have arranged these musings into three sections (similar to my journey) – "Think & Do", "Observe & Learn" and "Realise & Evolve".
Click here to read this book.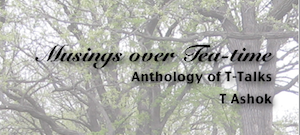 (Visited 28 times, 1 visits today)