After a 20km morning run last Thursday with Raj Vadgama, I was keen  to do a  longer run next day with him (my max is HM with a lone 25km).  And what a day it was!
Started the Friday morning run with Raj Vadgama at Cubbon park later moving to Kanteerva  Stadium. This is made of two loops, a smaller one around the covered indoor stadium and the large one around the open stadium.  Later when Praveen Patil joined, Raj casually said that we should complete 50km today.  This was a stretch goal for me and I was excited. 
Each loop was wonderful; lovely conversations with Raj interspersed with quiet reflections, sweat drops softly trickling down, the quiet pit-pat of the shoe, the energetic shouts from the inter-school basketball tournament, the blaring music from the volleyball court as it was being prepped up for a state-level tournament that evening. . The sun slowly moved up, the bright sun in the sunny smaller loop recharging the body whilst the tree cover in the larger loop cooling the body. As the shadow slowly vanishes, it is lunch time. Pizza for lunch, thank you Praveen Patil !
We commence the afternoon session with a walk-loop to settle the food. Around 4:30pm , we shift to the stadium and the track is softer on the legs, The legs feel great and I am delighted to see 42.2km happen. Wow, did not plan for a FM. 
Evening is busy time at Kanteerva. It is wonderful to see young kids being trained in athletics. Full of energy and life.  After a quick felicitation ceremony for Raj at the stadium by the sports staff at Kanteerva, we resume running. 50km mark happens! And we move outside the stadium. The shadows are behind us now. This is the first time during a run where I have seen shadows move from front to back ! Sun bids us goodbye and we continue. At 7pm we stop and my Nike Plus shows 61km. And my fastest 1km was the 61st km at 5:07. 
Never did I dream of going this far. Bharathon wave has been amazing, it has created EIGHT ultra runners in Bangalore during the few days that he was running here. All you had to do was to run with Raj and he inspired you to get there Thank you Raj Vadgama. May you achieve the world setting milestone of 10000km running – Jai Bharathon.
See the run map picture – it is a young Giraffe! Hmmm, I have become taller in running and younger in the mind!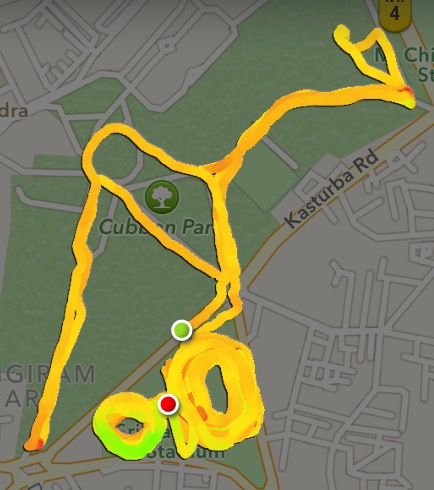 (Visited 17 times, 1 visits today)