With a heavy heart I have to DNF after reaching Thirsk 400km in the LEL.
The details
At 120km I nicked the curb and fell down. Just some scrapes on the kneee. Washed it with water, rode to the control 80 kms later and put savlon ointment. Rode to next control abut 97 kms on the night with another German leisurely . Hamstring tightened up by the time I came to control. Sleep for 2 hrs and continued thinking I would do a slower ride. About 47 kms in and 20 kms to go to the next control, it became difficult and very slow. That is when I decided it is wise to give up. Came to Thirsk control approx 400 kms and got the stamp officially and then communicated that I would like to DNF.
Damn. Anyways it is always for the good. A shame though. Very testy climbs, with good legs, I would have enjoyed it .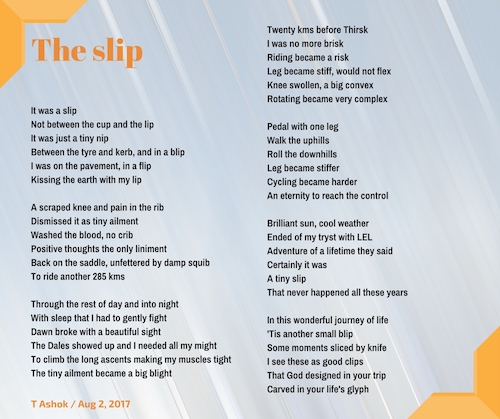 (Visited 6 times, 1 visits today)