After arriving at Velodrome at Paris,  got the cards stamped and submitted them. After the breakfast that comprised  of a singular muffin which is what I was entitled being a vegetarian, I was all set to leave. 
That is when the amazing cyclist arrived. The Italian cyclist rode the special cycle using  hands only as he has no lower limbs. He completed the 1230km PBP successfully. His face radiated peace and happiness. The only muffin and nothing-else-for-you vegetation breakfast had made me grumpy, as I was ravenous. Meeting this wonderful person energised me,  grumpiness vanished and made my day.
Amazing person. I will cherish the meeting and the picture on Aug 20, 2015 lifelong.
Stay inspired. Anybody can do amazing things. Stay positive and be tenacious.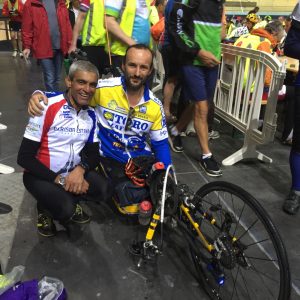 (Visited 17 times, 1 visits today)